Goss Floors, Inc.

I

206-227-1908

I

gossfloors@gmail.com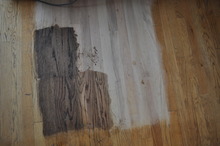 Stain Pick:
When choosing a stain color, Goss Floors will work to figure out the desired look. Then we will sand an area of the floor and put down several color choices to choose from. Jim and Mark have 20 years of experience matching existing flooring, cabinets and swatches. They can help you find the perfect color for your floor.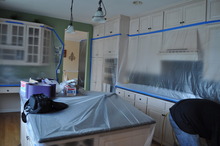 Visqueen:
Hanging plastic on cupboards, door openings, lighting fixtures and vaulted entryways will ensure that all of your home stays clean and dust free. This process, along with the dust containment system, makes the process of sanding the floors in your home virtually 100% dust free.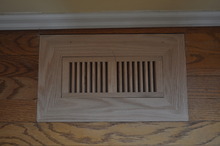 Flush Mount Vents:
Do you have metal drop in registers in your existing hardwood floors? Goss Floors can cut in new flush mount vents into your floors, or they can add them to any new flooring you are having installed.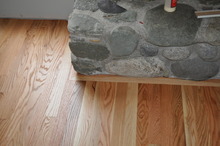 Scribing:
Goss Floors can copy the intricate detail of fireplace rock and tile work when installing new borders.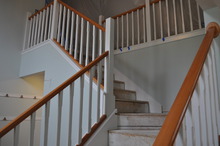 Installing Stairs:
When installing treads and risers in your home, Goss Floors will take the carpet off, cut back the nosing and prep the subfloor for installation. If necessary, they will take the stairs all the way down to the studs and rebuild them from the ground up.
Sanding Stairs:
Goss Floors can
make your existing stairs look like new by refinishing them. Working around spindles and millwork to make sure your stairs look as amazing as the rest of your floor.
Borders:
Whether sanding an existing border or adding a new one to your home, Goss Floors can make sure this custom touch is exactly what you are looking for.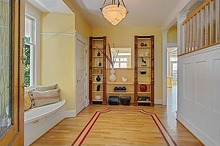 Inlays:
Do you have an inlay or medallion you want in your home? Years of experience makes it possible for Goss Floors to create these custom masterpieces for you in your home.
Lace In:
When adding new wood up against existing flooring, Goss Floors can lace in the new wood with the old wood to make the new addition truly seamless. This process can also be used when existing walls are moved.
Baseboards:
There are two options for dealing with baseboards when sanding your floors. If a floor is not being stained, Goss Floors can sand up to the existing base. If you desire a stained floor, then they can remove and replace your existing base or install new base.
Base Shoe:
A product called base shoe can be added to cover up any gaps that are visible after removing carpet.
Water Damage:
Water damaged wood can be removed and replaced with new wood. Then the new wood can be sanded and blended to match the rest of the floor.

The processes used when sanding and installing hardwood floors.